About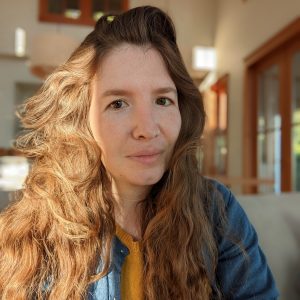 A voracious reader, who often hid books at the dinner table, Caitlin Elizabeth Thomson started writing both prose and poetry, as a teenager.
As an undergraduate, Caitlin attended the University of Toronto, Trinity College, and as a graduate student, she earned an MFA in Creative Writing from Sarah Lawrence College. While there she taught senior citizens memoir writing, helped an AP English class prepare for the poetry section of the examination, and was the poetry editor of the literary journal Lumina.
Her poems have appeared in numerous journals and anthologies including The Fiddlehead, The Literary Review of Canada, Air/Light, Tar River Poetry, The Adroit Journal, The Moth, The Penn Review, Radar, Cosmonaut Avenue, The Conium Review, and Killer Verse (Knopf). Her work has been nominated for the Pushcart Prize, the Best Indie Lit New England (BILiNE) prize, the Best of the Net Anthology, and The Best Small Fictions Anthology.
The poet Thomas Lux chose to publish her first chapbook through Jeanne Duval Editions. The chapbook, Victims of Ted Bundy: Washington State and Oregon was released in 2011. Her second chapbook, Incident Reports, was published by Hyacinth Girl Press in 2014. Her third chapbook, Territory Prayer, was published by Maverick Duck Press in 2015.
Her manuscript, Soul Selects Her Own Society was a finalist for the ECW Best New Speculative Fiction award in 2021.
She was a featured speaker at the 2023 BC Writers Summit.
Caitlin founded and runs The Poetry Marathon with her husband Jacob. The Poetry Marathon recently completed its eighth year which involved 500 participants from all over the world. A big fan of writing challenges, she's also completed The 3-Day Novel Writing Contest, NaNoWriMo, NaPoWriMo, Script Frenzy, and a play in a day competition.
She currently lives in Toronto, with her family, where she edits Authors Publish Magazine, and runs The Writer's Workshop at Authors Publish.  She talks about how Authors Publish came to be, here.
She spends most of her limited free time reading, loom knitting, peddling a bike that will never go anywhere, and reading middle grade graphic novels to her daughters.
You can contact her at caitlinelizabethjans@gmail.com.